Shopify vs Shopify Plus 2021(8 Key Differences You Must Know)
Are you trying to decide between Shopify vs Shopify Plus? 
Chances are you've heard a lot about the features and benefits of Shopify Plus from online communities or fellow eCommerce retailers.
But you don't know the core differences between Shopify and Shopify Plus, which is better for your business and whether migrating will be a smart move. Chances are that you've read tons of articles on Shopify Plus features and benefits but you need more to guide you. This article is for you.
Did you know that we also provide consulting services?
What You'd Get From This Article

Zissu LTD has helped merchants (like you)build profitable Shopify stores on standard Shopify and Shopify Plus.  In this article,  
I'll share a detailed Shopify vs Shopify Plus breakdown,

Help you choose which plan is best for you, and  

Show you how to migrate to Shopify Plus if you finally decide to do so. 
That's not all. I took it a step further to present Shopify vs Shopify Plus in a simple table. So that you can download, print, and share it with others. Before we dive in, let's get some facts straight.
Did you know that we also provide consulting services?

Yes! Shopify and Shopify Plus work the same way.
For example, they both let you
Set up online stores without much coding experience,

Display your products,

Receive and fulfill orders,

Sell to different channels,

Collect payments,

View store analytics, and

Manage your store from a dashboard.
But here's where Shopify and Shopify Plus part ways. Shopify Plus has all the features of standard Shopify and a ton of more features.
You'll get to know them in this article.
Note: in this article, standard Shopify refers to the Basic, Shopify, and Advanced Shopify plans.
Let's dive in.
Traffic and order handling capacity (Shopify vs Shopify Plus)

What is your number one goal as a Shopify retailer? This one is a no-brainer. It is certainly to make more sales. Right? And to make more sales you need to push traffic to your Shopify store. How much traffic can your store hold before going down?
Standard Shopify traffic and order handling capacity
Standard Shopify plans can't withstand serious traffic and high volume simultaneous orders. Expect your store to crash after a few thousand simultaneous hits.
If this happens on a Black Friday, during a flash sale, or product launch, you'd watch thousands of $ go down the drain. Take the story of Gymshark for example, their 2017 Black Friday crash made them lose over $143,000 in sales.
Shopify Plus traffic and order handling capacity
Shopify Plus is built to handle serious traffic. Your Shopify Plus store can
handle over 4 million hits per second and


up to 10,000 orders per minute.
This is a product of the backend infrastructure on which Shopify Plus is built. After their store crash, Gymshark migrated to Shopify Plus and recorded amazing results the following year. Some of which include
9.3X ROI on a Black Friday social media campaign

197% overall increase in holiday revenue

$128 million in FY 2018 revenue
Customization and Control
How much control do you want over the experience of your customers? Complete control. Right? You want to be able to modify every part of your store to provide the best experience for your customers. How much control does Shopify vs Shopify Plus provide?
Customization and control on Shopify standard plans
With Shopify standard plans, you can customize your Shopify theme via the editor. As well as tweak a few features such as colors, the position of elements, etc. You can not customize your checkout page experience or make very important modifications to your store's look and feel. etc.
Changing your Shopify theme can break your store. Also, you may end up distorting your search ranking (SEO) and reverting the HTML and CSS changes you made to the previous theme.
How much control does Shopify Plus provide?
Shopify Plus grants you access to Liquid; Shopify's theme language. This gives you code-level customization capabilities and control over your store. This means you have complete control over the look and feel of your store. For example, you can personalize your store checkout page to provide different experiences for different purchase volumes, etc. Compare the checkout page for standard Shopify and Shopify Plus.
Standard Shopify checkout page
Source: veeqo.com
Shopify Plus checkout page
Source: veeqo.com
Support and customer success
What happens when you get stuck setting up or running your Shopify store? How much support do Shopify standard plans provide vs Shopify Plus?
Shopify standard plans support
For Shopify standard plans, you have access to support via phone, email, and live chat. But if things really go south, you're referred to a Shopify Expert for help.
In addition, you can also get answers and help via Shopify's guide, YouTube channel, forums, and other online communities.
Shopify Plus customer support
When you migrate to Shopify Plus a dedicated launch manager is assigned to you. Your launch manager holds your hand and takes you through your entire store setup and migration. Your launch manager will help you with setting up your store, integrated third-party tools, and even go as far as writing lines of code. All at no extra charges.
There's more. Shopify Plus also has a merchant success program that is designed to help you grow fast.
Number of Storefronts And Access To The Global Market
How many stores can you have on one Shopify account?
Number of stores on a Shopify standard account
You can't have more than one store on a Shopify standard account. If you want to run multiple storefronts you need to open different accounts for each store.
Shopify Plus provides 10 storefronts in one account
Your Shopify Plus account comes with a default store and ten extra storefronts. Each of these stores is controlled from one place, one account, and one dashboard.
That's not all. Shopify Plus also lets you sell to different countries, languages, and currencies from one account. Your main store can be duplicated and customized to target different countries.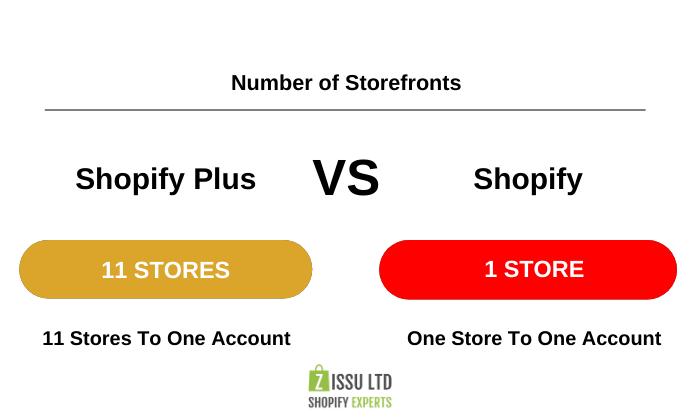 Collaboration and staff accounts
How many of your team members have direct access to your Shopify store?
You'd agree with me on this. To get tasks completed on time, your team members need to be able to work directly in your store. They also need to be able to work from anywhere without having to converge in a physical location. Especially during a pandemic like COVID-19.
How many staff accounts can you add in Shopify vs Shopify Plus?
Shopify standard plans have limited staff accounts
On the standard Shopify plan, the maximum number of staff accounts is 15.
Shopify Plus provides unlimited staff accounts
On Shopify Plus, if you have a hundred persons in your team, you can add all of them. Shopify Plus offers unlimited staff accounts. This means you can grow your team as much as you want and have everyone connected to your Shopify store to get things done fast. Each team member has permission levels, and you can monitor their activities and the changes they make to your store.
This enables effective collaboration and accelerated growth.
Selling wholesale on Shopify vs Shopify Plus
How do you fulfill bulk orders? Back-and-forth emails? This is not scalable. Especially if you're a fast-growing brand with other eCommerce retailers buying in bulk from you.
Standard Shopify doesn't provide a wholesale feature
Standard Shopify does not offer any special wholesale capabilities. You will need a different store/account or resort to back-and-forth emails.
Shopify Plus provides a dedicated (but integrated) wholesale channel
Shopify Plus offers built-in wholesale functionality. You can easily convert one of the extra 9 storefronts to a wholesale channel for your products. Bulk buyers can log in to your wholesale store and make purchases. This means you can offer the same product to retail and wholesale buyers. Letting you offer exclusive prices to wholesale buyers. All managed on the same platform.
Automation and API integration
Automation and third-party integrations are at the center of selling online. How much automation and API integration functionalities does Shopify provide vs Shopify Plus?
Not much for Shopify standard plans
Shopify provides basic API integrations and is accessible only to a few apps.
Shopify Plus offers a world of integrations and automation tools
Shopify Plus gives you access to advanced API (even beta APIs) that cannot be accessed with standard Shopify. For example, on Shopify Plus you have access to GiftCard, User, and Multipass APIs. Shopify Plus also lets you seamlessly integrate with your existing platforms such as
Product information management (PIM)

Enterprise resource planning (ERP)

Inventory and order management (IMS and OMS)

Customer relationship management (CRM)

Third-party logistics (3PL)

Warehouse management software (WMS)

Global fulfillment partner
That's not all… Shopify Plus comes with three powerful automation tools.
Shopify Flow

Launchpad

Shopify Script
Shopify Flow lets you automate repetitive tasks. Such as setting a discount for a given purchase volume, flag or cancel high-risk orders, segment/tag customers, hide, pause, and republish products at certain times or conditions, etc.
This frees up hundreds of hours to spend on tasks that directly affect growth.
Launchpad lets you run smooth and successful product launches and flash sales. Without the hassles and errors that can lead to the loss of $$ in sales. Launchpad lets you automate and plan flash sales and product launches way ahead of time. Launchpad lets you schedule prices, open and close your store, hide or show products, etc. All upfront. All automated.
The Script editor helps you customize different aspects of your store such as your checkout point etc. And carry out bulk actions on your Shopify store. For example, changing prices across your store, creating discounts across different products, change shipping options based on customer tags, the content of a cart, or order value. And more.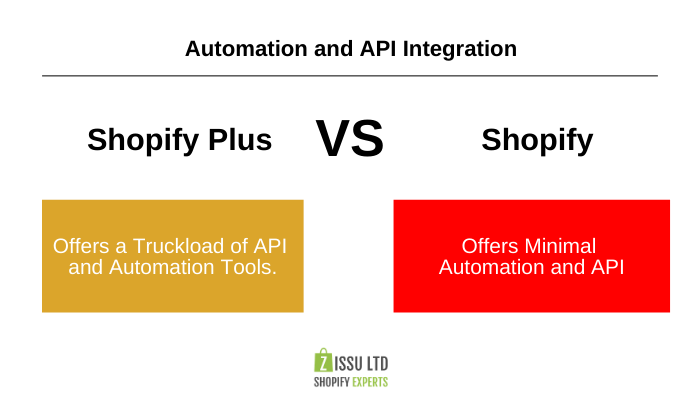 How much does Shopify vs Shopify Plus cost?
Standard Shopify plans are fixed
Standard Shopify plans are fixed. They include
Basic Shopify ($29/mo)

Shopify ($79/mo)

Advanced Shopify ($299/mo)
To get more features you have to move to a higher plan.
To purchase one of Shopify's standard plans, visit Shopify's pricing page.
Shopify Plus pricing is dynamic (and pays for itself)
Shopify Plus plan is flexible. It starts at a $2000 licensing fee and increases as you complete more sales on the platform. That is the plan pays for itself.
Shopify Plus plan starts from $2000 per month to $40,000 per month. It starts to increase from $2000 after you hit $800,000 in monthly sales. And up to a cap of $40,000 for $16 million monthly sales- for all the features of Shopify Plus.
Note that the monthly license fee is paid upfront for at least 12 months. For all features on all 11 storefronts on your account.
To migrate to Shopify Plus, you have to contact their team.
Which is best for you? Shopify vs Shopify Plus
Standard Shopify plans work for small and medium-scale businesses. Shopify Plus is ideal for fast-growing businesses doing seven figures and more yearly.

Shopify is designed for small and medium-scale businesses that are doing at most six figures per year. If you're in this category, you can stick with Shopify's basic plans.
This will help you decide. If you're just starting out with a low budget, go with one of the 3 standard Shopify Plans. But if you have the budget, or fall into one of the below buckets, you should consider Shopify Plus,
You're hitting at $85,000 and above monthly

Your team and product line is growing very fast

You want to expand to the global market conveniently

You want to sell wholesale

You're planning a product launch or flash sale that will attract thousands and millions of hits and orders.
Putting everything together
Conclusion
There you have it, a detailed Shopify vs Shopify plus breakdown.
Succeeding as an eCommerce seller requires an efficient combination of tools and people. Shopify has the tools part covered.
Which plan would you be going with?
Have you decided to migrate to Shopify Plus?
You can contact their team, purchase the plan, and get started with setting up your store on Shopify Plus by yourself, and with the help of the Launch manager or you can take the faster route. Hire a Shopify Agency to help you handle everything so you can focus on what only you can do; marketing, sales, and fulfillment.
As a Shopify Expert, Zissu Globals has helped 7-figure businesses set up their stores on Shopify Plus. We have the team and the experience, let us help you. Let's discuss your project.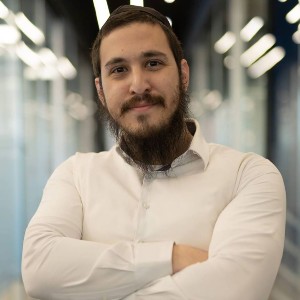 Chen is the Shopify expert with 7 years of experience in Shopify Development, brand design, website migration and conversion rate optimization. His brand designs participated in multiple competitions, and all the stores he built generated over $24.000.000 in sales. He's passionate about building big eCommerce brands from scratch.