What is Shopify Plus (A Complete Guide + 10 Powerful Features)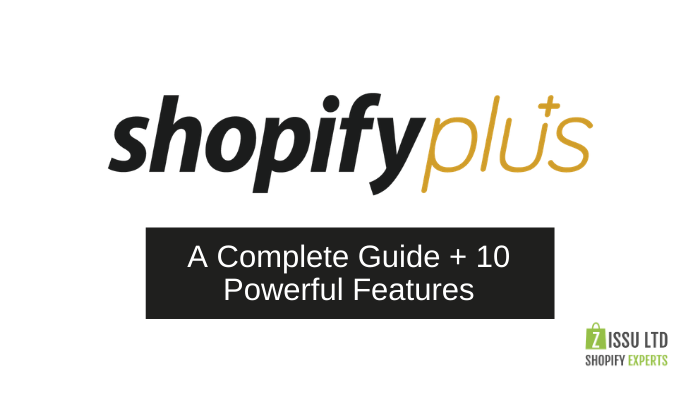 Have you been wondering if migrating to Shopify Plus is the right investment for your business? Do you want to launch a new online store and you're looking for the best platform to use?
Perhaps you do not think Shopify plus would make a difference, because you're already doing great sales figures with Shopify's standard plan or other e-commerce platforms. Chances are that you've read tons of articles on Shopify Plus features and benefits but you need more to guide you. This article is for you.
What to expect from this Shopify Plus Guide

In this article, you'll learn everything you need to know about Shopify Plus.  This includes 
Shopify Plus features,

How Shopify Plus can help you sell more and scale to multiple six and seven figures, 

Shopify Plus pricing 
Here's the interesting part, I took it a step further. I shared screenshots and stats to give you a deeper understanding of the platform. After reading this article you'd know all you need to join brands like Gymshark and 7000+ sellers doing six figures monthly on Shopify Plus.
Did you know that we also provide consulting services?
Zissu global is a full-service Shopify Plus agency. We help retailers in the fashion, beauty, jewelry, and decoration industry build Shopify stores. We want to help you convert your traffic to sales and return customers.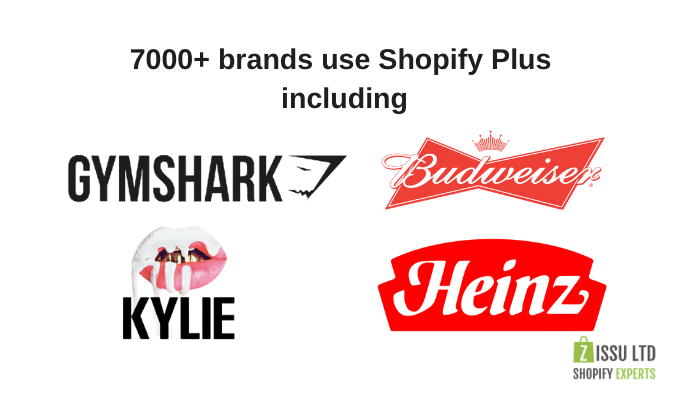 Table of content
What is Shopify Plus (Definition)

Why Shopify Plus (Shopify Plus features and benefits)

Shopify Plus Pricing

When Should you migrate to Shopify Plus?

How to migrate to Shopify Plus

Conclusion
What is Shopify Plus?

Think of all the good stuff from Shopify standard plans, then add a ton of more amazing features. That is Shopify Plus. Shopify Plus is Shopify's hosted enterprise eCommerce platform for rapidly growing online retailers.
What does this mean?
Shopify Plus is Shopify's retail solution for large online retailers who want to sell more without the technical hassles that come with it. Here's the catch for Shopify Plus users.
100% customization and control

99.99% server uptime 

Over 200 TB storage

More robust marketing and process automation

Improved multichannel and omnichannel functions

Very fast store speed.

Dedicated customer support
This video from Shopify provides an amazing summary.
What are the benefits of Shopify Plus?
What does your business stand to gain (or lose) with or without Shopify Plus?
The answer?
In this section, I'd show you 10 powerful Shopify Plus features that will help you grow and sell more with less effort. 
Shopify Plus can handle extremely high traffic
Imagine your eCommerce store crashing in the middle of Black Friday or Cyber Monday sales, Flash sales, or product launch. You'd agree that would be a total nightmare for your company. 
Take Gymshark's story for example. In 2017 GymShark's online store crashed at the beginning of their Black Friday Sales. This made them lose over $143,000 in sales with loads of unhappy customers, threatening to give up on them.


They migrated to Shopify Plus after this and recorded amazing results the following year.
9.3X ROI on a Black Friday social media campaign

197% overall increase in holiday revenue

$128 million in FY 2018 revenue
Source: shopify.com
So what made the difference with Shopify Plus?
Shopify Plus is built to handle millions of hits per second and thousands of orders per minute. Without crashing or slowing down. Here's Shopify's big secret:
Shopify Plus is hosted on high-performing servers at Rackspace (a leading cloud hosting provider on the planet). 

Shopify Plus uses dual CDN with Fastly, one of the most efficient CDN services, and Akamai's CDN (as redundancy).

Shopify Plus also provides you with 200TB of storage space.
Shopify Plus stores are designed to handle over 4 million hits per second and 10,000+ orders per minute without a glitch, crashing, or slowing down.
Here's more. Big brands using Shopify Plus report record-breaking functionalities. For example, 
200,000+ people simultaneously flooded the Kylie Cosmetics Shopify store during a New York pop-up event.

Death Wish Coffee taking $2,083 a minute after their Super Bowl commercial aired.
What does this mean for your business?
The resilience and reliability of Shopify Plus to extremely high traffic and checkouts means 
 More time and freedom for you and your team to focus on bringing in as much traffic as you can, and selling as much as you want, as fast as you want. 

Technical and server downtime headache due to the increase in traffic is over. 

Your dev team can now focus on building more functionalities to increase your sales. Instead of chasing bugs around the office.

More money, more satisfied customers, happy staff, and team members. 
The best part is no other eCommerce platform can boast of this. This is only available on Shopify Plus.
 

Shopify Plus store owners have full store customization
Do you wish you could do more than carrying out basic edits on your theme?
Do you wish you could give your customers a unique experience on your checkout page?
As a Shopify Plus retailer, you have access to Liquid; Shopify's theme language. This gives you greater control over how your store looks and the experience you want for your customers. 
Let me explain how this works. For example, you can customize your checkout page to include more features to
Personalize your Shopify store checkout with custom discounts, shipping rates, and product recommendations

Help your customers check out faster 

Ensure them of a secure checkout.
And more. All by updating your checkout.scs.liquid file. And on top of that, your checkout page URL remains in your domain, not checkout.shopify.com
Compare these two checkout pages. The first is on Shopify while the second is on Shopify Plus.
Source: veeqo.com

You must be thinking, "that's not so bad". Now, look at this customized checkout page on a Shopify Plus store.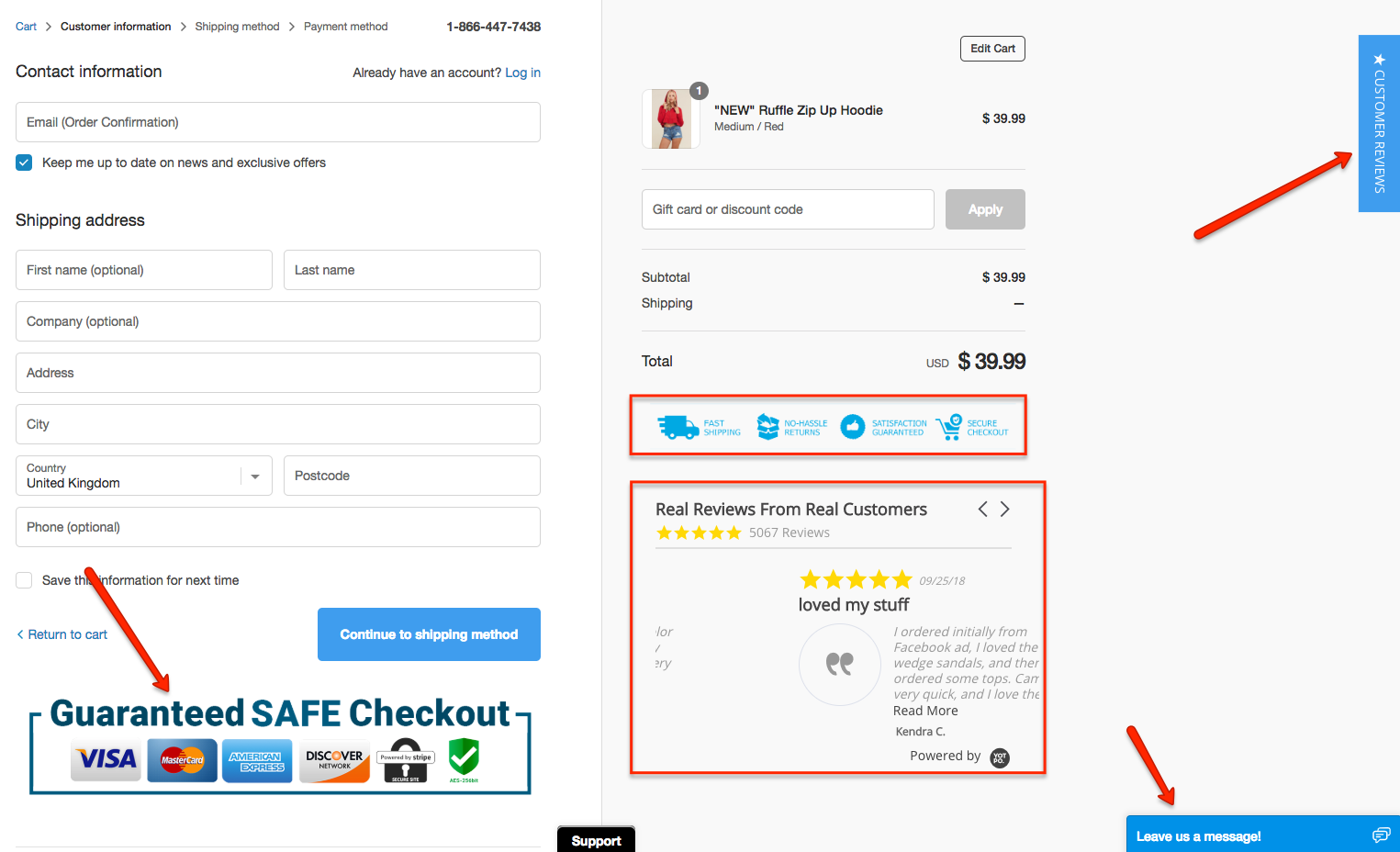 Source: veeqo.com

Amazing, isn't it. This is definitely something you'd like for your business. As a growing brand, this level of control means you can give your customers the experience they need to buy more from you. Especially for brands in the fashion and beauty industry, this flexibility and control is a game-changer.
In the words of Ben Francis, the Founder of Gymshark
"The great thing about Shopify Plus is the fact we fundamentally trust the platform and can do what we want almost immediately and be confident it's going to work. We've set the standard and continue on our journey towards being the greatest fitness brand in the world."
Here's the interesting part, this is only possible on Shopify Plus.
Shopify Plus opens the gateway to the Global/new market
How do you sell the same product to customers in different countries speaking different languages?
Let me guess. You probably build separate stores for each country from scratch.
With Shopify Plus, selling to various countries with languages has been reduced to a few steps. Let me walk you through.
Your Shopify Plus account comes with a default storefront and additional 10 stores. You can customize each storefront for different countries, currencies, and languages.  By simply cloning the first store and changing the currency and language.
What does this ease mean for your business?
You do not have to build new stores from scratch any time you want to enter a new market.

Thousands of $ and hundreds of hours saved in creating new stores and reuploading your products. 
That's not all.
Each store has its separate backend control. For each store, you can edit orders, content, finance, etc, separately. All from one place. All your stores' analytics, staff account, user permission, and automation tools are managed from a single dashboard.
But wait, there's more. You can serve the appropriate store to your customers based on their location. Giving your customers a personalized experience.
For example, Gymshark has a dedicated storefront for the USA, Canada, the UK, and France. And over 10 other different languages they sell to. Customers from these countries are automatically directed to the appropriate store.
Gymshark in Canada.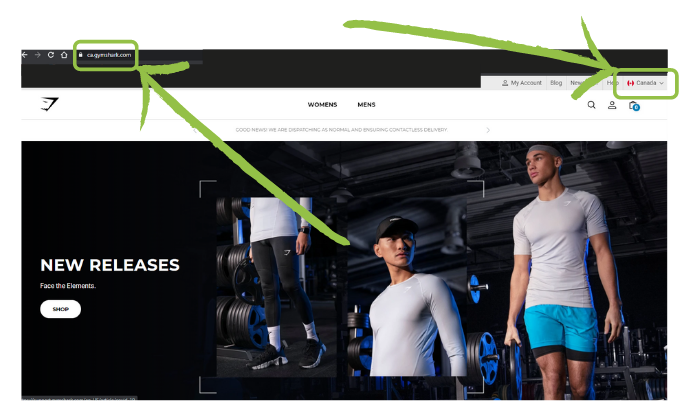 Source: gymshark.com
Gymshark in the USA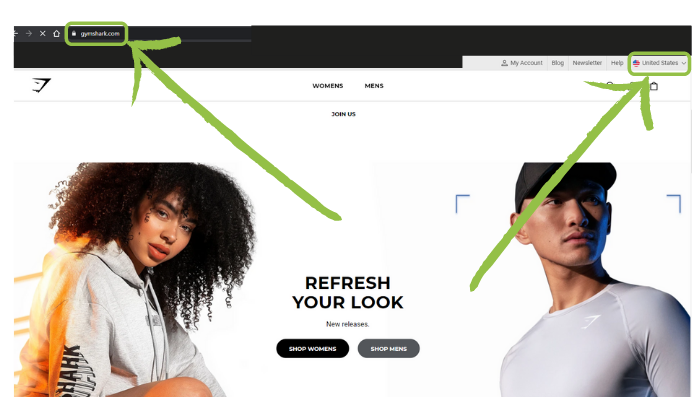 Source: gymshark.com

Gymshark in France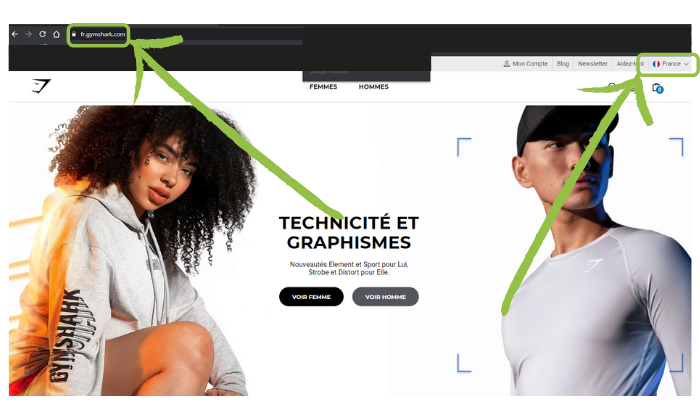 Source: gymshark.com

This buy-anywhere experience is only available on Shopify Plus.
Shopify Plus provides sophisticated automation to help you do more with less
Imagine being able to set up workflows of any type to run on autopilot.
For a fast-growing online store, there is only so much you can do manually. Shopify Plus provides three powerful automation tools to help you run your business. Even while sleeping.
They include:
Shopify Flow,

Launchpad,

Shopify Script.
Shopify Flow
Shopify Flow lets you set up automation workflows for low-level repetitive tasks that you usually assign to a team member. Automating these tasks frees up hundreds of hours for your team. This means more time to focus on tasks that affect growth, such as branding and marketing.  
With Shopify Flow, you can
Flag or cancel high-risk orders,

Set up follow up emails after chargeback or abandoned cart of a certain volume,

Set discount for a given purchase volume, 

Automate inventory management and ordering at different trigger thresholds, 

Hide, pause, and republish products in your store at a certain time or conditions (e.g when out of stock),

Segment and tag customers.
And more… All without any coding skill.
Launchpad
Launchpad is Shopify's solution for smooth and automated Flash sales and product launch. 
Launchpad lets you schedule tasks and automate your product launch and flash sales workflow ahead of time. This prevents errors or mistakes that might cost you thousands of $ in sales.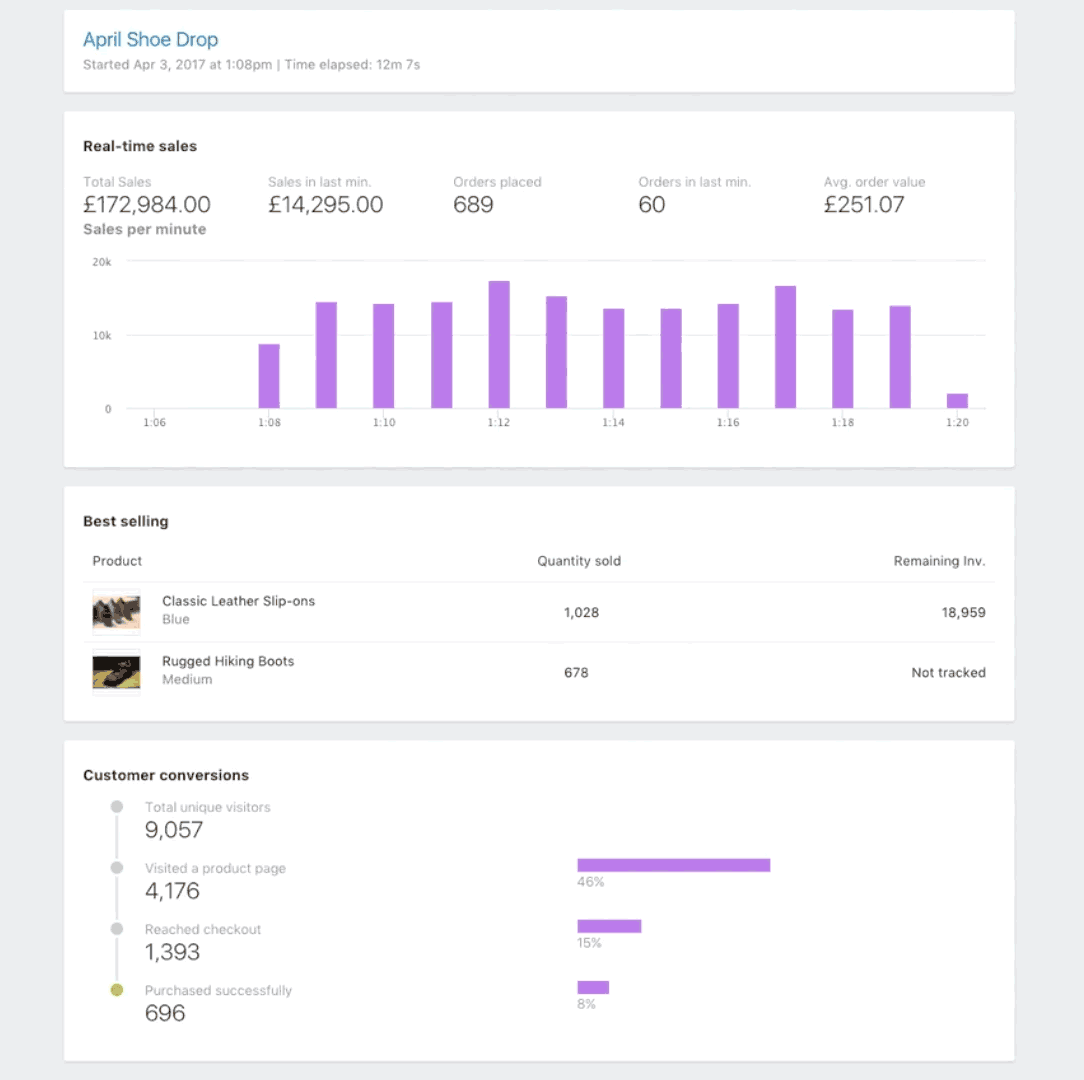 With Launchpad, you can
Set up events and changes for the beginning and end of your sales or launch.

Close your store for a specified period of time or by a trigger.

Secure your store against bots with Captcha integration.

Automate product visibility and inventory.

Schedule pricing. 

Control inventory levels. 

Customize themes etc.
This frees up your team to focus on pushing more traffic to your site. Instead of trying to keep your store up at every point or adjusting your inventory.
Shopify Script allows you to carry out bulk actions on your Shopify store. These actions could include:
Changing prices across your store

Creating discounts across different product categories 

Organizing product inventory across your stores

Creating customized checkout options etc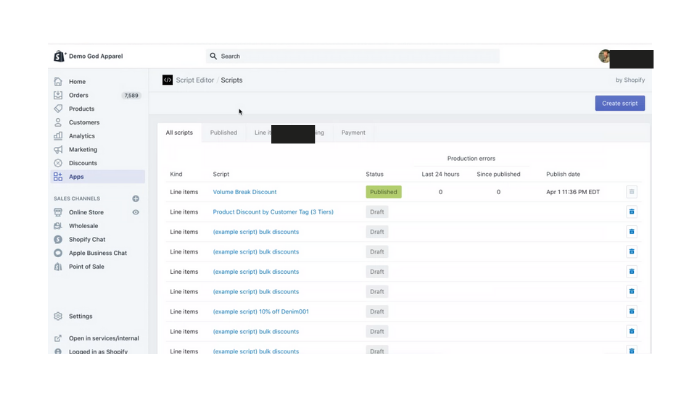 Also, Shopify Plus also comes with Shopify Pay. With Shopify Pay, checking out is in matters of seconds for your customers.
Here's the bottom line. Shopify Plus provides a world of automation and flexibility to help you manage your shop without manual labor or lifting. 
The benefits?
Instead of spending time whining away on low-level and repetitive tasks. Your team will be free to focus on tasks that get you more sales and provide a great experience for your customers.
Sell more with Shopify Plus Wholesale 
If you have been searching for an effective way to sell to B2B clients, without the hassles of the back and forth emails. Shopify wholesale has got you covered.
From the extra 10 storefronts you have on your account, you can build a dedicated wholesale portal.
This wholesale portal helps you control price tiering, offer special discounts for specific volume purchases and specific customers, control inventory, accounting, and more…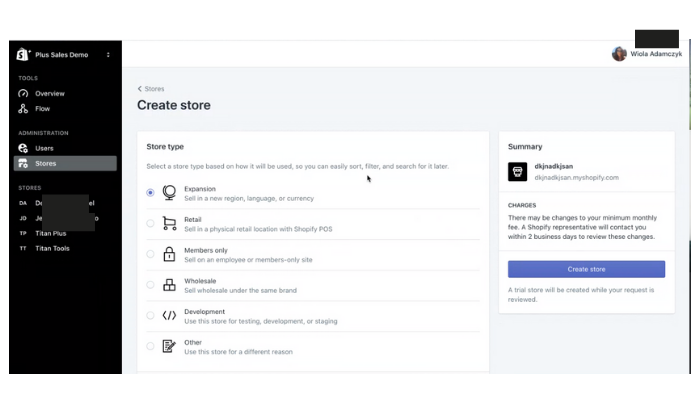 Your B2B customers can easily log in to your Shopify Wholesale portal and make their purchases. For example, see Death Wish Coffee's wholesale portal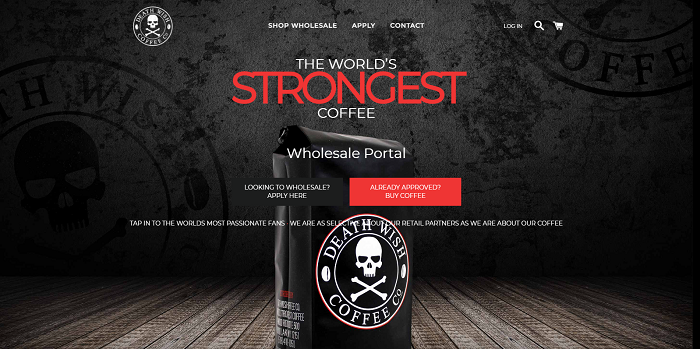 Shopify Plus integrates B2B and B2C in one platform and in one account. Now you can increase your sales through wholesales without all the hassles attached to it.
Advanced multi-channel capabilities to help you meet your customers where they are
Shopify Plus helps you sell on over 20 different channels, all controlled by the same backend.

Shopify Plus removes the difficulties Shopify retailers face in their multichannel marketing efforts. Shopify Plus helps you sell to your customers wherever they are or like to buy. Over 20 different channels, all watched and controlled from one place. 
With this, you can optimize and harmonize inventory control, update products, streamline orders and fulfillment, and measure channel effectiveness. It gets better…
Shopify POS lets you sell in physical stores and booths. Everything seamlessly integrated with your online store. 
Let me tell you what this means. Shopify Plus is connecting online sales with traditional offsite sales. Bringing the best of the two worlds under one control.
GymSharks sell offline using Shopify POS to link transactions and activities.
This is only available on Shopify Plus.
Shopify Plus lets you do more with advanced APIs and script access.
Shopify Plus provides a lot of API access that other Shopify Plans do not. Such as discount APIs, gift card API (to create and manage your store gift cards).
Shopify Plus integrates with Avalara tax
Selling to different countries and regions, (the EU, Brexit, etc) you want to make sure you're always on the right side with tax requirements.
Avalara is a Shopify Plus integration that helps you ensure you're charging customers the right tax rates.
Avalara is a third party tax company integrated with Shopify. The integration does real-time tax calculation for over 14,000 US tax requirements. 
Better support and help for Shopify Merchants + a dedicated success manager
To help you grow and scale, Shopify Plus has a merchant success program. 
The success program involves a large team of customer support staff to help you. You also get a dedicated Shopify Launch engineer. The Launch engineer will assist you in setting up your store especially when migrating from another eCommerce platform.
There are 5 areas of the program, and as a Shopify Plus merchant, you're automatically enrolled in the program. They include
Shopify Plus Academy

Merchant growth model

Platform and ecosystem

Plus community

Specialized support
Unlimited collaboration with your team members
How do you manage a large team of developers, content writers, accountants, marketers, etc, all working on your store?
Let me guess… You all share the same passwords.
Say goodbye to that with Shopify Plus.
On your Shopify Plus account, you can add as many people to your team as possible.
Here's the interesting part. Each team member can have different roles (such as content editor, accountant, developers, SEO experts, ads expert, etc). Also, you can give them different levels of access to your store.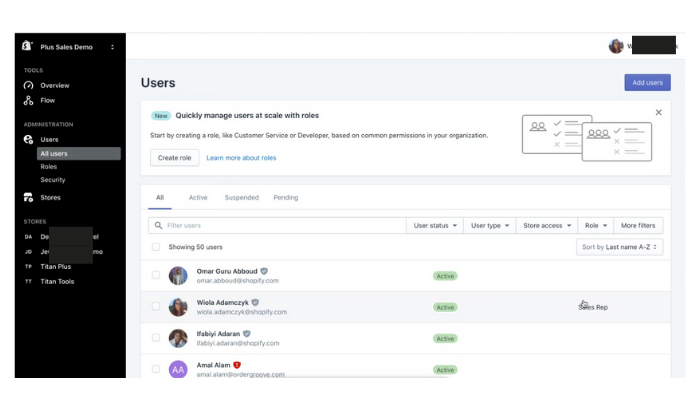 What does this mean for your business?
Your team can work truly remotely and from home (very vital during COVID-19),

Work gets done faster and seamlessly

You get to easily track their changes in your store.
This is available only on Shopify Plus.
There you have it. All you'll be missing out on if you do not migrate to Shopify Plus.
I can almost hear you thinking…How much is Shopify Plus?
Shopify Plus Pricing
Shopify Plus does not have a fixed plan.
How much you pay is based on your Shopify store traffic and sales volume. That is why on their website you're asked to contact their sales team to get a quote.
But to get you started on what to expect, here is Shopify pricing explained.
Pricing for Shopify can change every month based on your usage and sales volume.
Breakdown of Shopify Plus Pricing
Licensing Fee
Starts from $2000/month to $40,000/month. It starts to increase from $2000 after you hit $800,000 in monthly sales. And up to a cap of $40,000 for $16 million monthly sales.
Here is an important thing to note. The monthly license fee is usually paid for at least 12 months upfront. This license fee covers all 11 storefronts that you'd have on one account.
Store build cost
You can use a predesigned Shopify Plus template and pay $0 in building a Shopify Plus store. But if you want something unique that aligns with your branding (like most big brands) you may want to build from scratch.
Based on the Shopify Plus agency you contact. Expect to pay anywhere from $30,000 to $250,000 and beyond. The price is determined by factors like the number of storefronts you want, third party integrations, etc.
Shopify additional app fees
In addition to all the features of Shopify Plus, you may want to power your operations with third-party apps. The more apps you add, the more you pay monthly. Generally expect to pay between $200- $1000 per month on apps.
Maintenance fee
Factored into your License fee.
Now, let's attempt to put everything together for your first year on Shopify Plus.
Assuming you do 10,000 orders, pay month at $60 per order.
Total monthly sales 10,000 x $60= $600,000
License fee: $2000
Store build cost: 30,000
Transaction fees: using Shopify pay 13,100
App cost: $200
Total: $45,100 for your first month
And $15,100 every other month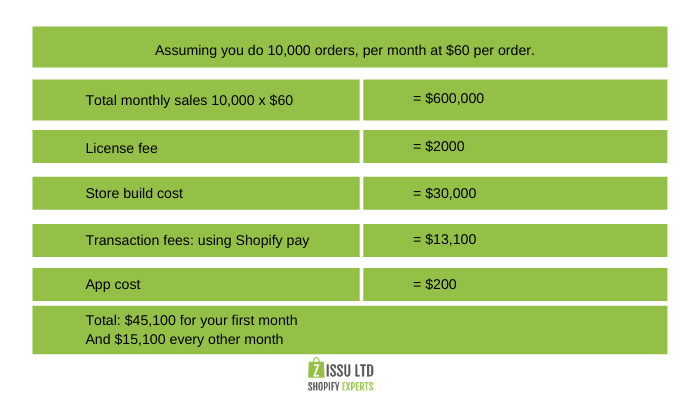 You'd agree with me that for sales volume of this size, migrating to Shopify Plus is a profitable investment.
Note: this is not the official pricing for Shopify Plus. Shopify Plus price changes with time. To get a hang of how much you should budget for your new Shopify Plus store, contact a Shopify Plus agency. A Shopify Plus agency can evaluate your business and determine how much migrating to Shopify Plus will cost you.
Now, this is important…
Shopify Plus is not for everyone. Shopify Plus is for online merchants who are growing fast and need a more reliable system to run their store so that they can focus on growth and sales.
How would you know if Shopify plus is for you, and when?
When should you migrate to Shopify Plus?
As I said, Shopify plus is for fast-growing merchants who need systems to handle their increasing traffic and sales.
But you must be wondering what you should look out for to know if you should migrate to Shopify Plus.
Here are 4 signals you should start packing your bags and moving to Shopify Plus or risk losing a lot of money to server issues, slow website, and lost sales.
You're hitting at least $85,000 in monthly revenue and you expect it to increase.

Your team and product line is growing very fast and you expect it to keep growing.

You want to expand to the global market and sell to different countries conveniently

You (or want to) sell wholesale.

You're planning a product launch or flash sale that will attract thousands and millions of hits and orders.
Now, to the big question, how do you migrate to Shopify Plus?
Migrating to Shopify Plus
Shopify encourages you to reach out to them to get an evaluation for your business and a quote.
You can follow this route and use a Theme to get your store running.
But, you can also choose to hire a Shopify Plus Expert to help you handle everything about your store set up. So that you can focus on product development, marketing, and sales.
Conclusion
There you have it.
Everything you need to know about Shopify Plus.
I believe by now you already know how Shopify Plus will change the game for your eCommerce sales.
Let us know if you have any questions about Shopify plus or anything about Shopify. And we'd be glad to help you out.
Zissu global is a Shopify expert agency certified by Shopify. We help growing businesses set up and manage their Shopify stores to help them focus on sales. Contact us.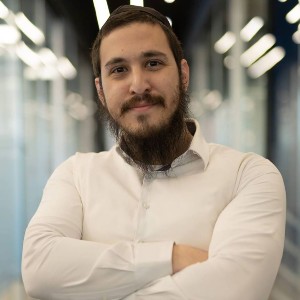 Chen is the Shopify expert with 7 years of experience in Shopify Development, brand design, website migration and conversion rate optimization. His brand designs participated in multiple competitions, and all the stores he built generated over $24.000.000 in sales. He's passionate about building big eCommerce brands from scratch.