6 things to consider before hiring a Shopify expert (A Complete 2021 Guide)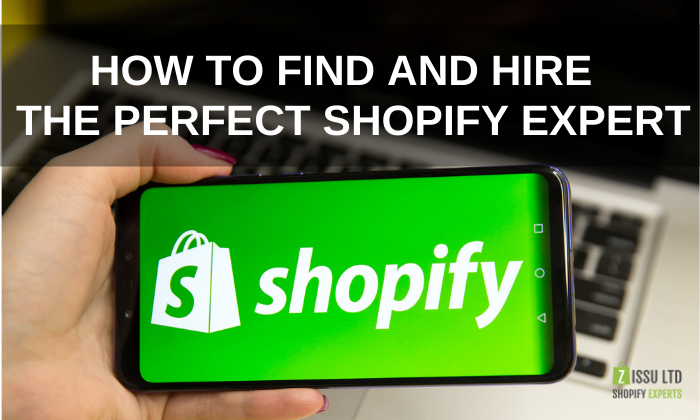 Do you want to hire the best Shopify expert to build your store and you're wondering the best way to go about it?
This article is for you.
In this article, you'd learn step-by-step:
How to find the best Shopify agency/expert,

How to interview and hire the best Shopify agency/expert for your Shopify Store that will give you value for your money, save you time and give you the freedom to focus on marketing, sales, and expansion.
Let's dive in.


Did you know that we also provide consulting services?
Before hiring a Shopify Expert
How do you set yourself up to hire the perfect Shopify expert and ensure your project is in the best hands?
Before setting out to search for Shopify agencies to hire, you need to put two critical things in place.
Your budget

Your project requirement
How much are you setting aside to build your Shopify store? Are you sticking with standard Shopify plans or are you going for Shopify Plus?
Your budget determines who you hire, and the features you integrate into your Shopify store.
That's not all.
Here's another question you need to answer.
What do you want to build, what features do you want to integrate, and what experience do you want for your customers?
Get this written down on paper.
This is where you might get it wrong.
You don't need to have the complete details figured out. A general idea written on paper is a good start for any Shopify expert to expand and work with.
You can take it one step further…
HGet examples of online stores you'd love to imitate. Prepare to show this to the Shopify expert that will be working on your site. This will provide a visual sense of what you're looking to build.
After getting clear on your budget and requirement, you're ready to start looking for agencies to hire.
Where can you find Shopify Experts?
Finding the perfect Shopify expert can cut deep into your time if you do not know where to look. In my experience, there are three areas you can explore.
Shopify expert directory

Referrals

Online marketplaces
Let's consider each of them.
The Shopify Expert Directory
The Shopify Expert Directory is Shopify's list of vetted and trusted expert developers, designers, and marketers. These experts are either freelancers or agencies who have been handpicked and vetted by Shopify.
You can filter through the hundreds of experts by location, industry, price, and language.
Go through the lists of experts and create a list of experts you'd love to work with. This is the list you'd use in interviewing
When going through the expert list, look out for reviews, testimonials, and the number of projects completed. The more positive review and completed jobs, the better. Keep an eye out for experts who have completed projects similar to what you want.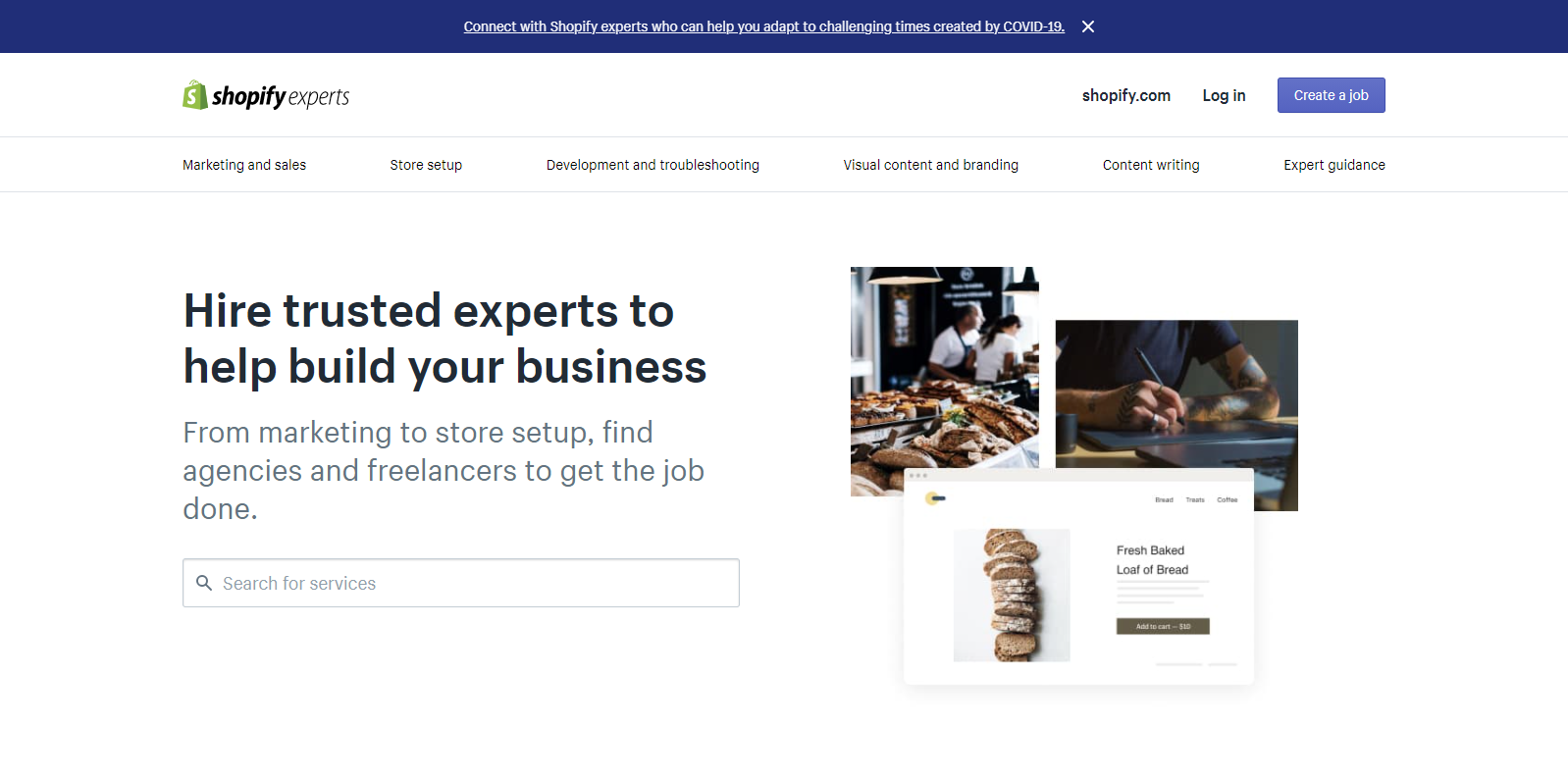 Referrals
Ask your fellow Shopify retailers to introduce you to Shopify agencies they've had success with.
Check out their online profile and make a list of Shopify agencies you'd interview.
You can also visit online forums, social media groups, and offline communities to get referrals.
Make a list of these referrals to interview.
Online marketplaces
Visit online marketplaces like Upwork, Clutch.io, and Toptal for a list of Shopify experts to interview for your project.
The major disadvantage of this medium is the lack of trust and validation. The Shopify experts directory or referrals however provide this.
After gathering your list of Shopify experts it's time to interview and select.
What should you look out for in a Shopify expert or Shopify agency?
5 things to look out for in a Shopify Expert
Here is a list of what to look out for when screening from your list of Shopify experts.
Testimonials: they should have numerous positive reviews from happy customers. If you can, reach out to the clients giving the testimonials to gather more information.

Expertise in your industry: go for agencies that have registered authority in your industry. For example, as a fashion brand, hiring a Shopify agency in the fashion brand is the best move since they already have expertise in that industry.

Portfolio: your candidates must have a list of completed and live projects you can check out. When checking out projects, check for mobile-friendliness, speed, and compliance with international laws.

Experts in migration: especially if you're trying to migrate from one eCommerce platform to another. You'd need a Shopify agency that understands the nuances of migration and how to overcome all the hurdles that it presents.

Shopify Plus experts: as your business grows, you may want to go big with Shopify Plus. So starting off with a Shopify agency that has experience in Shopify Plus is a great way to ensure you don't scramble for a new Shopify agency to work with once you want to upgrade.
Selecting and interviewing Shopify experts
Schedule a video interview with your candidates. The goal of the interview is to explain your project to them and to know if they are a perfect fit for your needs.
Here's a list of questions you can ask during the interview.
What's your experience in e-commerce development projects?

What software do you generally use to set up an eCommerce store?

Will there be a mobile website for my store?

Do you have expertise with international laws and standards?

How would you make my store different?

Do you offer site maintenance and will this factor into your pricing?

What is your pricing?
After going through the interviews, evaluate their responses and choose the one that meets your requirement and budget. 
Note: Go for agencies that know how to work without much supervision. This does not only let you tap into their creativity but give you space to focus on other areas of your business. Knowing full well that your store is in great hands.
How much does it cost to hire a Shopify expert?
It depends.
On what?
On the scope of your project, the complexities of the functionalities you're trying to build, and the expert you're reaching out to.
Typically, a Shopify agency building and setting up your Shopify store will estimate your pricing based on the features and functionalities, the time it will take and the tools needed, maintenance costs, and whether you're requesting a custom design or working with a template?
Do you need extra services like SEO, copywriting, custom integrations, data import, and graphic design, etc? That will also be factored in.
But generally speaking, small projects usually go for about $3000 to $5000. On the medium scale, you'd be looking at spending about $10,000. But for large projects, expect to pay between $10000 to $100000.
Expert tips for executing your projects
After choosing the agent to work with, it's time to get to work.
Here are 3 expert tips to help ensure a successful project.
Encourage and enable communication: ensure you and your Shopify expert are in constant communication. Stay updated with work progress and provide all that is needed.

Payment: decide on a mutual payment plan. A very good one is a milestone payment basis. Ensure work is satisfactorily done before you release the payment. 

Encourage your Shopify agency to take the lead and be creative. This will help tap into their expertise and free up enough time for you.
Conclusion
There you have it.
I believe by now you have all you need to hire the perfect Shopify Expert for your business. Hiring is difficult, but when you follow proven steps, you reduce the risks and increase your chances of getting the best hands working for you.
If you need a team of Shopify Experts to work on your Shopify store, we'd be ready to serve. Zissu global is a Shopify expert with deep experience in helping businesses set up stores in Shopify and Shopify Plus. We have a large portfolio of successful projects and a truckload of happy customers.
Check out our Shopify expert page
and
Contact us
today.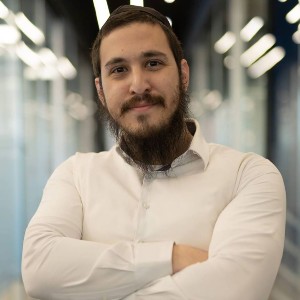 Chen is the Shopify expert with 7 years of experience in Shopify Development, brand design, website migration and conversion rate optimization. His brand designs participated in multiple competitions, and all the stores he built generated over $24.000.000 in sales. He's passionate about building big eCommerce brands from scratch.